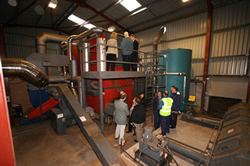 Wood Energy (Biomass)
With the continuing increase in the cost of oil and the need to reduce carbon emission it was decided in 2005 to investigate alternative heating methods using a biomass fuel. Several options were considered and, in the end, woodchip was preferred, taking into account availability of fuel and the technical knowledge of burning this fuel in Europe.

In November 2006 a 3MW centralised boiler unit was installed and commissioned at Kernock Park Plants. At the time, this boiler was one of the largest biomass boilers to be installed in Devon and Cornwall. More info ...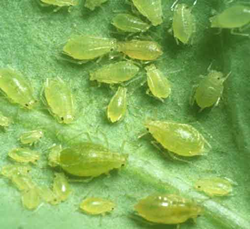 Integrated Pest Managment (IPM)
Pest or disease problems can affect many plants, particularly those under environmental stress. Kernock Park Plants uses beneficial organisms for the control of common pests such as aphids, mealybug, spider mites, whitefly etc. There are several pesticides with activity against these pests, some of which can be integrated while others have a much broader range of activity, killing most natural enemies, sometimes for several months after application. Integrated Pest Management (IPM) uses cultural techniques, biological control agents and selective or short persistence pesticides to provide long term, sustainable, pest management. It is quite practicable to use a full IPM programme that can run from year to year with just minor adjustments to correct localised pest outbreaks. This article will look at the main pests and their IPM options that are suitable for use in the majority of gardens and greenhouses. More info ...
Packaging & Labels
Kernock Park Plants is fully committed to best environmental practise and sustainability. We use 100% recycled material in our packaging and we recycle all of our used packaging to ensure that landfill is minimised and the recycling loop is maintained.

More info ...

Items:, Value: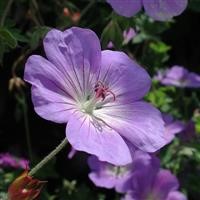 £53.50
Marbled leaves with a soft velvety texture and large, cupped, blue flowers with white centres and maroon veins in late summer.

£45.50
Crowned as the RHS Chelsea Flower Show's Plant of the Year 2012. The blend of peach, pink and mauve shades gives the flowers a tropical appearance.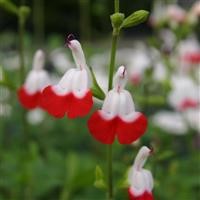 £22.75
This is a wild selection of the Mexican Salvia microphylla - with small green leaves and unique scarlet-red and white, two-toned flowers. Depending on temperature and moisture these will tend to appear almost completely red or white at any one time, but usually both colours are showing.

£25.00
Bright Pink-red with medium vigour.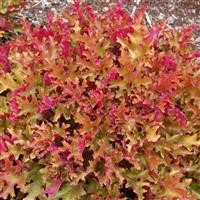 £47.75
A great garden performing amber coloured Heuchera. Spring foliage is more purple and summer becomes more red.

Popular Downloads
If you would like to order plants from our surplus (availability) list, or would like to view the list offline, print off this PDF Document and fax it back to the number shown on the print out along with you company name and the tray quantities you require or .


Please click here for our updated list of liners available from now and into the new year. All the information about numbers, discounts and order instructions are included.