Your Ideas Transformed
Your ideas can be transformed into living displays, designed using computer technology and planted from our
extensive range of carpet bedding
.
The planting stage takes place at the nursery, rather than directly into the bed. Installation is easy, on delivery the customer simply slides pre-rooted tiles of plants out of their trays onto a pre-prepared bed following a set plan. This means the bed instantly becomes a colourful work of art within hours.
This art form has previously been limited to specialists, but InstaPlant gives people who would not normally have attempted to create a decorative display themselves the chance to have a display produced and delivered without any of the hassle. Carpet bedding is now available to everyone!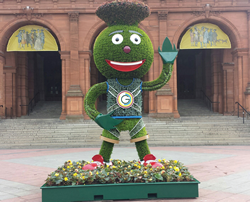 3D InstaPlant® offers boundless opportunities to install unique, eye-catching, living, 3 dimensional displays. We have created displays ranging from a 4.5 meter tall Mascot for the 2014 Commonwealth Games (bottom right) to a large living-plant dinosaur.
3D InstaPlant® enables this very specialist art form to be delivered to clients effi ciently and hassle free. Each structure is designed to order, fabricated in steel, irrigation system installed, planted-up, grown on and delivered to site.
For carpet bedding designed to order, or for more information on 3D displays, please request the InstaPlant brochure or visit
www.instaplant.co.uk
If you have an idea and would like to discuss it with us, please call or email us on:
Tel. +44 (0)1579 350561 or
Email:
instaplant@kernock.co.uk
Online Ordering
Qty Discounts Available
for orders over 50 trays + additional discounts when placed 16 weeks in advance
Min Order 10 Trays