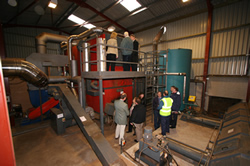 In November 2006 a 3MW centralised boiler unit was installed and commissioned at Kernock Park Plants. At the time, this boiler was one of the largest biomass boilers to be installed in Devon and Cornwall.

The capital cost of the boiler, building and distribution was partially funded under Objective 1 grant aid from DEFRA and the European Agricultural Guidance and Guarantee Fund (EAGGF).The fuel is wood chip sourced as locally as possible and is deemed Carbon Neutral.
The 600,000 litres of Gas Oil previously used was replaced by around 2000 tonnes / year of chip from wood that has little other commercial use.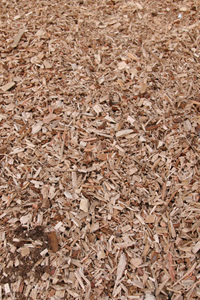 In the five seasons' heating there has been a steep learning curve how to handle the unit to get the best performance. In that time the industry has generally gained a lot of experience and today anyone considering a biomass burner can fall back on a great deal more technical knowledge. The quality of the chip is of paramount importance for size, moisture content and cleanliness. Some burners available today are able to take variable wood and other burnable waste material. These burners are, however, more expensive than conventional burners and may need a WID certificate which really adds to the cost.

Biomass, including straw and miscanthus, is not for everyone. Consideration must be given to the availability of the material and whether it can be delivered when it is wanted. If storing wood is necessary, as in Kernock Park Plants case, then a considerable area of ground is needed by the burner. Wood pellets is an option that has less maintenance but the current price means that the cost of fuel is only just less than light oil and more expensive than current gas prices. The production of CO2 from wood is being tested but is not sufficiently reliable at the moment to recommend installation. If CO2 is required, for the time being, the biomass burning route may be dubious.

The introduction of the Renewable Heat Initiative (RHI) for commercial use has now put another factor into considering biomass burning. RHI pays for burning biomass, assessed on energy used. The payment is guaranteed for 20 years and is index linked. Further information can be obtained from the
Department of Energy & Climate Change
website.
Even with this incentive, the decision to change to biomass needs to be taken carefully. Whatever the form of a dynamic fuel source, the burner will need 'driving' and many growers who want an easy life and probably do not use a great deal of fuel might still find a cheaper capital cost and ease of control, such as gas, a better option.
Kernock Park Plants was one of the first to take advantage of RHI for biomass boilers by supplementing the first boiler described above with a 995kWhr boiler. The accreditation was done through Ofgem and a number of strict rules are applied before any payments are made. The Italian made Uniconfort boiler is very efficient and works almost non stop through the winter months.
Online Ordering
Related Sections
Qty Discounts Available
for orders over 50 trays + additional discounts when placed 16 weeks in advance
Min Order 10 Trays