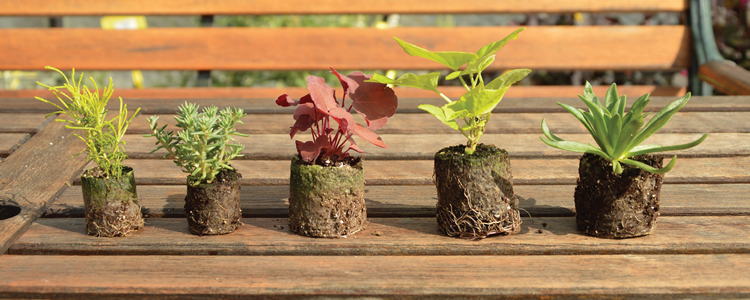 Our Product
We produce young plants in
various sizes
. Our standard tray units hold 100 (3.2cm), 50 (4.8cm) plug cells and 18 (9cm) liners. Our minimum order quantity is just 10 trays.
We offer a diverse range of plants that span several traditional categories including seasonal/bedding and patio plants; hardy and herbaceous perennials including alpines and grasses; hardy nursery stock and more niche crops such as succulents and carpet bedding. The result is a mouth-watering assortment of over 1200 different varieties of plants produced from cutting, seed or tissue culture.
Where necessary, we pinch most of our varieties during the weaning phase in order to promote uniformity and encourage growth from the base of the plant canopy. This will lead to higher quality finished plants without our customers having to pinch during the early stages of production.
Flexibility & Added Value
We pride ourselves in our ability to offer flexible solutions for our customers, offering alternative products, specifications, formats, even bespoke options for customers who take volume.
This "added value" approach has been a constant in Kernock's history, always seeking to capture or expand niche markets. A great example of this being the multiple award winning
InstaPlant®
product where Kernock produces carpet bedding displays for local authorities, corporate organisations, charities, sports clubs and tourist attractions. This idea was developed by Kernock in the face of dwindling specialist skills for installing carpet bedding displays by traditional methods.
Kernock extended its product portfolio to undertake the publicity and production of the Wollemi Pine® in the UK. Today, the Wollemi Pine is not only a successful conservation story, but is also one of the most well-known plant "introductions" in recent years. Kernock are now the only commercial propagator in the northern hemisphere of this prehistoric find.
Our Customers
Our plants are grown and sold to over 1300 customers, predominantly within, but also outside of the UK and Ireland. We pride ourselves on our ability to service a broad spectrum of customer, from the largest plant finishers, who grow and distribute for retail chains and garden centre groups, to some of the smallest specialist grower-retailers.

The most direct route to the consumer market is through a variety of mail order customers which market, pack and despatch many of our products to be grown in gardens throughout Europe. A loyal, long term and stable customer base has been established by focusing on repeated customer satisfaction through product quality, ease of ordering, accuracy and timeliness of any updates and ability to deal with any issues in an effective manner. This mentality is encapsulated in our mission statement "Growing Great Plants with service you can Trust!".
Online ordering and account management
We're pleased to offer you a great range of online services. Our entire catalogue is available
online
where you can place forward and surplus orders, as well as manage your account, your orders and invoices through our secure online account service.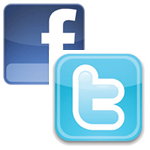 Weekly Email Updates and Social Media
Stay up to date with the latest product information and trends with our weekly email updates and surplus list. You can also follow us on Twitter (@kernock) and like us on Facebook (www.facebook.com/kernockparkplants) to get updates, information and advice about our latest products, services, and industry news too.
The Surplus List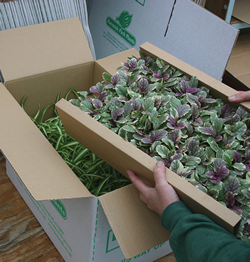 Our
surplus list
is available online and updated constantly, so you can see exactly what we have available for immediate delivery. We can also email and/or fax you the surplus list weekly. Please let us know if you would like to register for our mailing list.
Delivery Services
We deliver our products all over the United Kingdom and Ireland, as well as into mainland Europe. Delivery of our trays is often by Danish (CC) trolleys on freight lorries or by pallet. We can also deliver using our unique box method, using environmentally friendly recycled cardboard. In this case, we use a business courier service.
Labels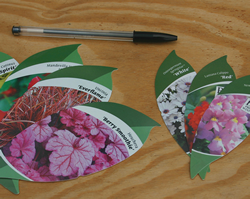 Labels are available for all catalogue varieties and are produced in midi and extra large sizes. The order form states M or XL to show the size available for each variety. Labels are delivered with your plant delivery unless a specific label order is received.



Motherstock
We source many of our initial plants from virus indexed, clean material. This helps to ensure that propagation and subsequent production is as trouble free as possible. We produce motherstock which provides our cuttings for insertion into our cellular plug trays. We also produce some varieties from seed.
Production Facilities
Our production facilities and methods are continually improving and techniques used are socially and environmentally responsible. We strive to produce the best quality plug plants in a timely fashion without pest or disease. Accreditation to the
British Ornamental Plant Producers (BOPP)
scheme ensures that we continue to surpass industry standards.
Online Ordering
Related Sections
Qty Discounts Available
for orders over 50 trays + additional discounts when placed 16 weeks in advance
Min Order 10 Trays