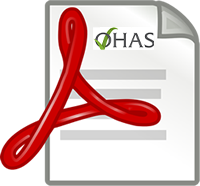 The Ornamental Horticulture Assurance' (OHAS) Certification Scheme is a grower specialist group of the HTA. Formed over twenty-one years ago (formally known as BOPP) it aims to raise the standards in ornamental horticulture in the UK.
The scheme certificates growers, packers and growing media manufacturers to the OHAS Standards, through unbiased independent inspections carried out by a UKAS accredited certification body (NSF Certification Ltd). The inspections form the basis of the scheme to set the highest standards of professionalism in the way our members operate.
All members of the OHAS scheme can choose to recieve an annual inspection, which provides customers with complete confidence in both product and service. The inspections also provide our members with the confidence that their business is up to date with latest legislation and best practice. Benefits of being a member of the scheme include:
Meet customer requirements.
A method to manage and continuously improve your business.
Ensure you are legally compliant.
Reduce your impact on the environment and manage resources sustainably.
Full traceability for all your products.
A framework to manage staff and develop skills.
Membership of a recognised industry body.
Support to gain certification.
Click here to download our current
OHAS certificate.
Online Ordering
Related Sections
Qty Discounts Available
for orders over 50 trays + additional discounts when placed 16 weeks in advance
Min Order 10 Trays